Get to know our Board members
Roger Haley: Board Chair
Bio:
Roger loves hockey. He has played and coached throughout his life, including at the college level while studying nursing at St. Lawrence College. During that time, he worked at the Brockville Psychiatric Hospital as a Psychiatric Nursing Assistant – his first introduction to the world of mental health and addictions. "I'm pleased to see the stigma attached to getting mental health support is lifting. Everyone is starting to pay attention."
Roger moved on to a 30-year career as a provincial negotiator with the Ontario Public Service Employees Union. Since 2006, Roger has also served as Mayor for the Township of Front of Yonge. Until recently, he sat on the Lanark, Leeds & Grenville District Health Unit Board and was Board Chair of the Seniors' Support Services - Community Primary Health Care (CPHC).
One of Roger's favourite parts of the game of hockey is coaching. In his role as LLGAMH's new Board Chair, Roger says he wants to support the new Board and CEO as they navigate a new path together. "I know a lot of the team and they've done a good job. Now it's time for some fresh ideas as we continue on the journey."
Roger has lived halfway between Brockville and Mallorytown for his whole life. He currently lives half a mile from where he grew up.
Roger's motto: Get up every morning and say 'What am I going to learn today?'
---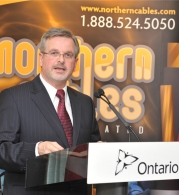 Shelley Bacon: Director
Bio:
Shelley believes in taking what comes and accepting change for what it is. His long career in the engineering and manufacturing field has taken him from his roots in Quebec to southern Ontario to the local area. For the past 37 years, he has lived near Smiths Falls where he launched and developed Northern Cables. This power cable manufacturer now employs 250 people in the area. "From beginning to end, I've done it all with this business from accounting to selling to whatever need to be done to get the job done."
Shelley brings that same attitude to his volunteer work. For example, he represents the City of Prescott on the St. Lawrence Corridor Economic Development Commission which brings seven townships together to encourage economic development.
As a father and local employer, Shelley knows there is a need for services such as the ones that LLGAMH provides. "We see employees that experience difficult times. It's very hard and we are very concerned. Sometimes trying to help them isn't easy."
Shelley lives in South Elmsley Township and enjoys his cottage on the Upper Rideau.
Shelley's motto: Every experience teaches valuable lessons.
---
Carole Dufort: Director
Bio:
Carole has dedicated her life to education and working with families. Her career has taken her from Montreal to Chapleau to the local area where she has worked as an educator, principal, author, and administrator.
She also worked at the Ontario Ministry of Education supporting the implementation of provincial mental health and well-being policies and initiatives.
Carole served as Chair of the Upper Canada District School Board's Champion for Kids Foundation, which raised more than one million dollars for kids and families facing financial barriers. In 2013, Carole was selected as one of Canada's outstanding principals and received the Director's Excellence Award for excellence in education. She retired in 2017.
Through her work on the LLGAMH Board, Carole hopes to focus on equity and inclusiveness, ensuring that services are respectful and meet the needs of smaller, rural communities. "Through my work, I have had an opportunity to see that policies, procedures, and fiscal practices must be aligned to ensure that grassroots work happens in the best interests of clients."
Lanark, Leeds and Grenville has been Carole's home for the past 30 years and she now lives near Perth on Black Lake.
Carole's motto is a quote from Marvin J. Ashton: If we could look into each other's heart and understand the unique challenges each of us face, I think we would treat each other much more gently, with more love, patience, tolerance and care.
---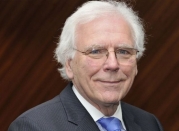 Ron Holman: Director
Bio:
Ron brings three decades of community service experience to the LLGAMH Board. He served as Mayor of Rideau Lakes Township for 28 years during a period of rapid municipal change and modernization.
Ron says he hopes to bring some of that same momentum to LLGAMH. "The pressures today are greater and will only increase. We need to have a broad mind to see what's possible and what is best for the clients we serve."
Ron also served as Chair of the Rural Ontario Municipal Association (ROMA), touring the province, and advocating for the interests of rural Ontario. He says he learned a lot about how needs vary and what strategies have been implemented to support those with mental health and addictions challenges.
He has extensive volunteer experience and has served on many local community Boards, with a focus in long-term care, social housing, and health care.
Ron lives in Rideau Ferry and loves the Rideau Lakes area.
Ron's motto: Anticipate tomorrow and be prepared.
---
Paul Howard: Director
Bio:
Paul came to Smiths Falls in 1976 to set up a law practice and he has been there ever since. He has practiced law for 45 years, focusing on municipal, real estate, and wills and estates. He has also specialized in criminal, civil, and family law. It was there that he saw the effects of mental health and addiction challenges on his clients and their families.
Paul has always been committed to his local community, volunteering with numerous organizations, and serving as a town councillor for eight years. He was involved with the Perth and Smiths Falls District Hospital in various leadership capacities from 1988 to 2014. He chaired the Board when the two hospitals amalgamated to create a regional hospital. Paul also sat on the Kingston General Hospital Board.
Paul and his wife Donna live in downtown Smiths Falls when not travelling the world (about 80 countries and counting) or spending time on the golf course.
Paul's motto: Keep going!
---
Dr. Alison Inglis: Director
Bio:
One of Dr. Alison Inglis's first jobs after graduate school was in the Child and Family Studies Department at the Centre for Addiction and Mental Health in Toronto (then known as The Clarke Institute of Psychiatry). She remembers working alongside talented and dedicated clinicians and being inspired by their passion for working with clients to help them thrive. Since then, supporting children and youth has been her passion as well.
For the past 16 years, Alison has been the Chief Psychologist at the Upper Canada District School Board. She also works with the Board's Living Well Committee, to prepare and implement the Board's Mental Health Strategy. She sees first-hand the positive health impacts of getting the right help at the right time but also how difficult it can be to navigate the mental health system: "It's a complex system".
In Brockville, Alison sits on the "Community Youth Initiative" committee. It includes agencies and services focused on supporting at-risk youth. She is a Community Trainer for Eastern Ontario's Violent Threat Risk Assessment Community Protocol. She is also a member of the Lanark, Leeds, Grenville Special Needs Strategy steering committee and is currently co-chair on that committee.
Twenty-five years ago, Alison moved to Brockville from Toronto to be closer to family and because she thought it would be a good place to raise a family. She says it is one of the best decisions she ever made.
Alison's motto: Together we're better (though lately "This too shall pass" runs a close second!)
---
Candace Kaine: Director
Bio:
Throughout her 32-year career in correctional and youth justice services, Candace Kaine has seen the impact of empathy. "Everyone can make a difference and you never know when something you do makes an impact. Try to put yourself in someone else's shoes."
Candace studied criminology and psychology and her work has connected her with various addictions services, detox programs, shelters, and mental health service providers. "I saw many clients for whom there did not seem to be appropriate community supports, which led to a cycle of admissions to correctional facilities, inpatient treatment, and homelessness."
Most recently, she was the Probation Manager for Brockville, Cornwall, and Pembroke Youth Justice Services. As a client advocate, Candace brings a wealth of experience and understanding about the need for good community programs to help clients live safe and productive lives.
Candace moved to the area in 2003. She and her husband live in Elizabethtown where she has a passion for yoga and travel.
Candace's motto: Be optimistic. We can do hard things.
---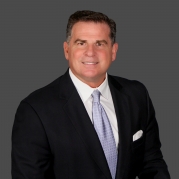 David Price: Board Vice Chair & Chair, Quality Committee
Bio:
David has worked in the healthcare industry for more then 35 years, including the last 21 years at Queensway Carleton Hospital in Ottawa. His passion for those with mental health and addictions challenges has been heightened by his work in the hospital sector and the experiences of family and friends. "People suffering with addictions or mental health challenges do not have a broken bone that we can simply fix. Most have been battling their illness their whole life and I feel we need to do things differently, have great compassion, and ensure we provide support."
David is Chair of the LLGAMH Quality Committee, bringing extensive experience sitting on quality committees and councils at Queensway Carleton Hospital, the College of Medical Imaging Technologist of Ontario, and a world-wide medical imaging vendor board. He says he wants to better understand the clients and their needs to ensure LLGAMH's access points, programs, and outcomes match those needs. "The Quality Committee is excited to help the LLGAMH team support this goal."
David and his wife Gillian live along the St Lawrence Seaway halfway between Prescott and Brockville in Leeds Grenville. David's wife has an Intimate Micro Wedding business and David is a healthcare consultant. He is also ordained to officiate weddings in Ontario.
David's motto: Always work hard, care about others and laugh every day.
---
Mike Larocque: Director
Bio:
Mike is a certified accountant has over 40 years in municipal governance and financial administration as well as banking and business accounting experience. He has a feeling for service to the community and has demonstrated this throughout his career in public service.
Coupled with his care for service is a compassion to help people in need and he sees such opportunity in assisting in mental health and housing issues. Mike has received training as a member of the Brockville Distress Center and Call in line. He hopes to participate in making access to services and help easier, while supporting responsible finance and governance.
Mike's motto: Get a passion (a burning in your belly) for something.
---
Michael O'Shaughnessy
Bio:
Michael O'Shaughnessy has extensive professional and community ties. He is a criminal defense lawyer as well as being the lawyer for the Leeds Grenville and Lanark District Health Unit. His son Matthew suffered from schizophrenia and committed suicide 20 years ago. Michael is well aware of the grief and sorrow mental illness can bring to a family. He knows the importance of providing additional resources to support citizens with mental health and addictions challenges.
Michael started his education at Mallorytown Consolidated P.S. and finished it at Queens University with stops in between at St. Mary S.S., St Francis Xavier S.S., Brockville Collegiate, and McMaster University. After articling in Toronto with criminal lawyers Arthur Maloney and Michael Wadsworth, Michael returned to Brockville to start his law practice.
Michael has been the President of the Leeds and Grenville Law Association and the Rideau St. Lawrence Criminal Lawyers Association. He was actively involved in the creation of the Mental Health Court and the Drug Treatment Court.
Michael's Mantra: "Don't let the past get in the way of your future!"
---
Yvonne Latta
Bio:
Yvonne Latta spent 26 years with the Correctional Service of Canada, starting as a parole officer and serving as Warden at two federal penitentiaries. She also brought invaluable human resources and strategic planning expertise in senior positions at Agriculture and Agri-Food Canada and Transport Canada. Retired since 2003, Yvonne is now an Executive Coach, helping to develop the next generation of leaders.
Yvonne moved to Kemptville several years ago.
Yvonne's mantra: Yvonne says she doesn't have one!
---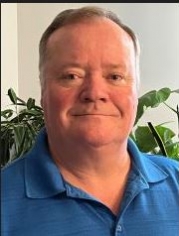 David Weger
Bio:
David Weger is a retired Canadian Armed Forces executive level leader and governance consultant with over 32 years of progressive experience in the health services sector. He has a proven track record for creative thinking, planning and problem solving. David has lived and worked around the world and is happy to now call Leeds and Grenville home. He says he is excited to bring together his governance experience and his desire to contribute to our community.
David lives just outside of Kemptville.
David's mantra: David says he doesn't have a life quote - yet!
---